HIGHLIGHTS
■ Class-leading Grand Feel Compact wooden-key keyboard action
■ Ivory Touch key surfaces, triple sensor, let-off, counterweights
■ Harmonic Imaging XL sound engine with 88-key sampling
■ Shigeru Kawai SK-EX, SK-5, & Kawai EX grand piano sounds
■ Powerful four speaker delivery system developed with Onkyo

■ Integrated Bluetooth MIDI and Audio wireless technology
■ MP3/WAV/SMF playback, record, and overdub to USB
■ Built-in classical etudes and Alfred lesson books
■ Spatial Headphone Sound for enhanced depth and realism
■ Premium cabinet with cheekblock control panel and OLED display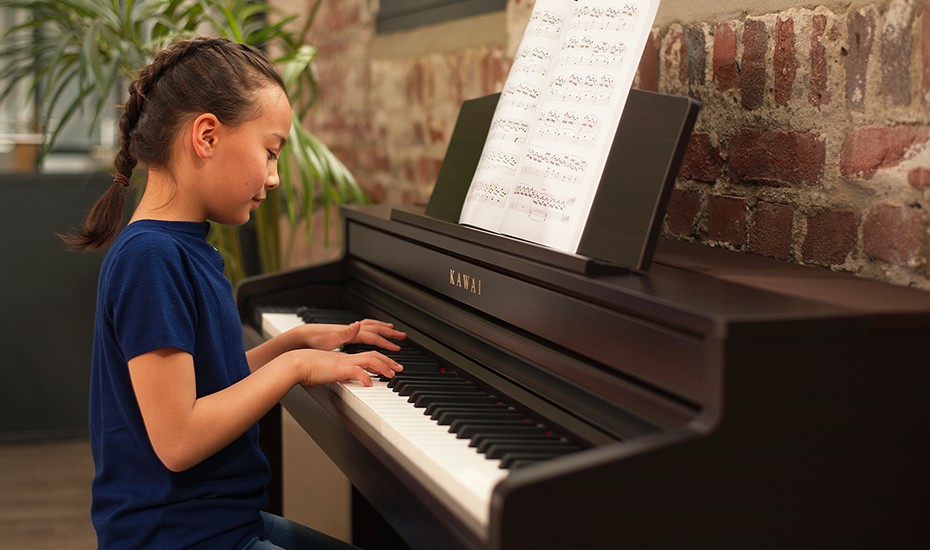 Feel Inspired

A piano that will encourage enthusiastic players to become accomplished pianists, and transform living rooms into grand concert halls. This is the ambitious philosophy behind Kawai's latest Concert Artist series – premium instruments that capture the essence of playing a magnificent concert grand piano, and inspire musicians of all ages and abilities to realise their true artistic potential.
DELIVERY
Premium audio technologies, Powered by Onkyo

Developed in collaboration with Onkyo, one of Japan's leading premium audio equipment manufacturers, the CA59 features a redesigned motherboard, amplifier, and audio delivery system. These premium components combine to deliver best-in-class audio quality, producing an extremely rich, clear sound with minimal distortion.
Onkyo designed sound hardware

The CA59 motherboard and sound hardware is designed for precise signal conversion and optimum sound quality. Onkyo's unrivalled knowledge and experience in producing premium audio components ensures clear, high-fidelity sound with minimal distortion.
Powerful 4-speaker output system

The CA59 boasts a powerful 100W, 4-speaker output system that closely mirrors the sound projection of a grand piano, with lower-range frequencies delivered through the underside of the instrument, and mid to high-range frequencies projected outward via top-mounted speakers.
DESIGN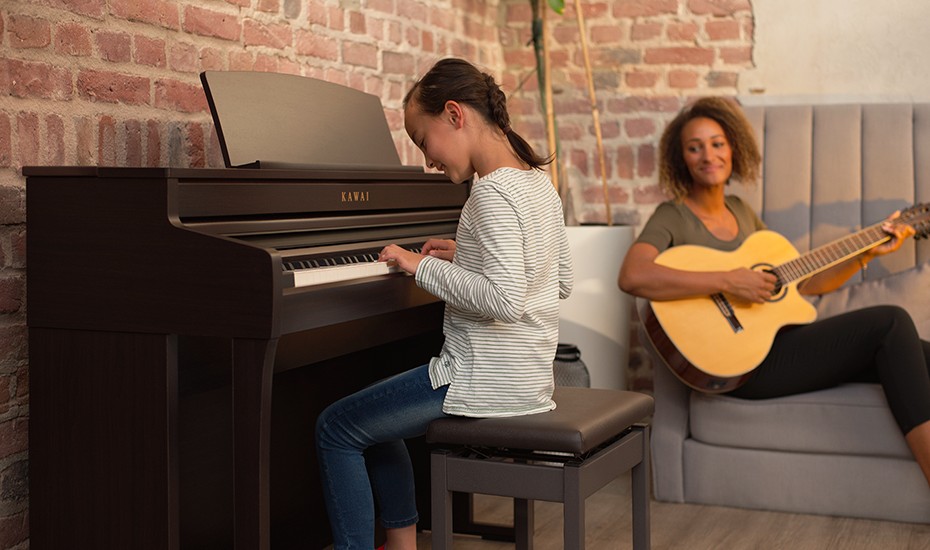 Grand Feel Design: Character & Purpose

Sitting down at the Concert Artist, the first thing that strikes the player is the instrument's flat fascia and tall upper board, giving the impression of a traditional grand piano and immediately elevating the musical aspirations of the performer. The distinctive KAWAI logo – representing over 90 years of acoustic piano crafting excellence – adorns the CA59's fallboard, its metallic finish glimmers in the light, capturing the graceful movements of the player's hands below.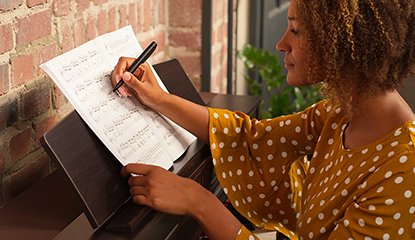 Broad, adjustable music rest

The CA59's broad music rest is engineered to accommodate the most ambitious musical works, with a high-quality surface and attractive round design.

As with a grand piano, the viewing angle of the instrument's music rest can be adjusted to suit the performer's playing position, or laid flat for convenience when notating scores or sketching musical ideas.

Cabinet Finishes

The CA59 is available in a choice of three attractive cabinet finishes: Premium Rosewood, Premium Satin Black, and Premium Satin White, allowing musicians to coordinate their piano with a range of modern interiors.

* For a visual representation of the piano in each finish, please refer to the Gallery function at the top of this page.
* Cabinet finish availability dependent on market location.
SPECIFICATIONS
Keyboard
・ Grand Feel Compact action
 - 88 wooden keys
 - Grade-weighted hammers
 - Ivory Touch white key surfaces
 - Let-off simulation
 - Triple sensor key detection
 - Bass region counterweights
Pedal
・ Grand Feel Pedal System
 - Damper (with half-pedal support)
 - Soft
 - Sostenuto
Piano Sound
・ Harmonic Imaging XL (HI-XL)
 - 88-key stereo sampling
 - SK-EX, EX recording
 - 256 note maximum polyphony
Piano Resonance
・ Acoustic Rendering
 - Damper Resonance
 - String Resonance
 - Undamped String Resonance
 - Cabinet Resonance

Piano Adjustment

・Virtual Technician (21 parameters)
 - Touch Curve (incl. User Touch Curve)
 - Voicing (incl. 88-key User Voicing)
 - Damper Resonance
 - Damper Noise
 - String Resonance
 - Undamped String Resonance
 - Cabinet Resonance
 - Key-off Effect
 - Fall-back Noise
 - Hammer Noise
 - Hammer Delay
 - Topboard Simulation
 - Decay Time
 - Release Time
 - Minimum Touch
 - Stretch Tuning (incl. 88-key User Tuning)
 - Temperament (incl. User Temperament)
 - Temperament Key
 - Key Volume (incl. 88-key User Key Volume)
 - Half-Pedal Adjust
 - Soft Pedal Depth

・Virtual Technician Smart Mode (10 presets)
No. of Sounds
44 voices
Reverb
6 types
Brilliance
✔
Other Effects
24 types
Speakers
13 cm x 2 (woofer)
(8 x 12 cm) x 2 (top speaker)
Output Power
100 W (50 W x 2)
Headphone Enhancements
Spatial Headphone Sound
Headphone Type
Display
128 x 64 pixel OLED
Key Cover
Sliding type
Music Rest
Collapsible type (3 angle adjustability)
Dimensions
Width
142.5 cm (56")
Depth
46.5 cm (18 1/3")
Height
91.5 cm (36") [music rest flat]
Weight
66 kg (145.5 lbs.)
Available Finishes
Premium Satin Black (CA59B)
Premium Satin White (CA59W)
Premium Rosewood (CA59R)
Basic Functions
Dual
Split
Four Hands
Transpose
Tuning
Low Volume Balance
Registration
Startup Setting
Internal Songs
Sound Demo
33 songs
Piano Music
29/42 songs *
Concert Magic
176 songs
Lesson Songs
Burgmüller 25 (25 Etudes Faciles, Opus 100)
Czerny 30 (Etudes de Mécanisme, Opus 849)
Czerny 100 (Hundert Übungsstücke, Opus 139)
Beyer 106 (Vorschule im Klavierspiel, Opus 101)
J.S. Bach: Inventionen
Sonatinen Album 1
Chopin Walzer (Chopin waltzes series)
Alfred's Premier Piano Course Lesson 1A
Alfred's Premier Piano Course Lesson 1B
Alfred's Basic Piano Library Lesson Book Level 1A
Alfred's Basic Piano Library Lesson Book Level 1B
Alfred's Basic Adult Piano Course Lesson Book Level 1
Internal Recorder
Total Memory
approximately 90,000 notes
No. of Songs
10 songs
Parts
2 parts
Metronome
Time Signatures
1/4, 2/4, 3/4, 4/4, 5/4, 3/8, 6/8, 7/8, 9/8, 12/8
Drum Rhythms
100 patterns
Bluetooth *
Bluetooth (Ver. 4.1; GATT compatible)
Bluetooth Low Energy MIDI Specification compliant
Bluetooth Audio with aptX support
USB Audio Recorder
Record/Playback
MP3
WAV
SMF
Other Functions
Overdubbing
Line In recording
App Functions
TBC
Connector Jacks
Headphone
1 x 1/4", 1 x 1/8" Stereo jacks
MIDI
MIDI IN, MIDI OUT, Bluetooth MIDI *
Line Out
1/4" L/MONO, R [unbalanced]
Line In
1/4" L/MONO, R [unbalanced]
USB to Host
✔
USB to Device
✔
Others
-
Power Consumption
TBC
Power
Power cable
AC adaptor (PS-242)
Bench
Fixed-height or height-adjustable bench *
Headphones
Headphone hook
Sheet Music
Classical Piano Collection *
Classical Lesson Scores *
Finger Exercises
Others
Warranty Card *
Owner's Manual
Internal Song Lists